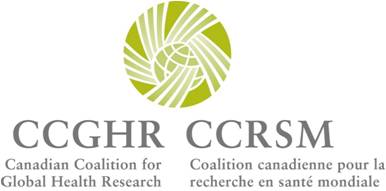 BC Forum Global Health Conference was held in March 2012
Knowledge to Action: Identifying BC's Contributions to Global Health Research
The BC Forum of the Canadian Coalition for Global Health Research (www.ccghr.ca) hosted its inaugural conference to promote global health research networking among individuals & institutions and provide mentorship to the next generation of researchers:

Inaugural BC Forum Global Health Conference
The Wosk Centre for Dialogue and Simon Fraser University's Harbour Centre
Vancouver, BC
March 16—17, 2012
On behalf of the BC Forum, the conference committee would like to welcome you to our inaugural global health conference.  We would like this event to galvanize the BC global health community towards thinking about what specific contribution we can make or are already making that puts us in a place of leadership.
We have many talented up and coming graduate students who are looking forward to this conference to connect, network and learn more about why we all are so committed to working in global health.
We have a great lineup of speakers and are very grateful that Dr. Nancy Edwards of CIHR's Institute of Population and Public Health has agreed to present our keynote.
For a review of the conference, check out a blog post by Mike Moore in The Lancet Student.
---
Canadian Coalition for Global Health Research
CCGHR is a not-for-profit organization promoting better and more equitable health worldwide through the production and use of knowledge.
Our members include:
Global health researchers
People actively engaged in applying research to improve global health
Organizations interested in funding health research
Members of the general public who share our vision and goals.
The Coalition began in 2001 as an informal network and has evolved through generous support from the Canadian International Development Agency, the Canadian Institutes of Health Research, Health Canada, the International Development Research Centre and other foundations.
---
1st BC Forum CCGHR
The first provincial forum on global health research took place in Vancouver on June 4th, 2010.  The forum was jointly hosted by Dr. Craig Janes, Associate Dean of Health Sciences (Simon Fraser University, SFU) and Dr. Vic Neufeld, National Coordinator for the Canadian Coalition for Global Health Research (CCGHR). Forty global health researchers participated from the University of British Columbia (UBC), SFU, the University of Victoria (UVic), UBC-Okanagan (UBC-O), and the Canadian Network for International Surgery (CNIS).
Participants explored incentives for collaborative research to overcome many barriers to working together in BC.  A shared sense of purpose, effective communication, and active engagement were identified as key to a successful provincial-wide collaboration. They also identified paucity of funding as a significant challenge to carrying out GHR in BC.
Going forward, the following five steps were identified for BC forum participants to work in partnership with CCGHR:
establishing a provincial working group on GHR;
developing strategic directions for GHR in BC;
enhancing the current GHR database;
coordinating provincial meetings to facilitate ongoing exchanges in GHR; and
advocating for GHR funding.
---
Steering Committee Group members attending the May 11, 2011 Meeting
From left to right standing: Chris Brown, Nicole Berry, Craig Janes, Jocelyn Conway, Ben Brisbois, Shafik Dharmasi, Ben Warren
From left to right sitting: Katie Muldoon, Vic Neufeld (guest), Jerry Spiegel
---