Original Post from Graduate and Postdoctoral Studies Website.
April 28, 2014 – It is with great pleasure that the Office of the Dean and Vice-Provost, Graduate and Postdoctoral Studies announces the appointment of Associate Professor Rachel Fernandez to the position of Associate Dean, Postdoctoral Fellows Office and Graduate and Professional Development.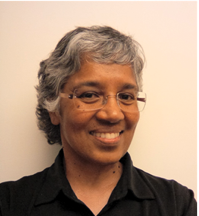 Dr. Fernandez will assume strategic leadership and oversight of the Postdoctoral Fellowship Office, a unit so ably helmed by Dr. Tony Farrell since its inception in 2010.
Operating within the Faculty of Graduate and Postdoctoral Studies, the Postdoctoral Fellowship Office works closely with relevant units across campus to facilitate and further improve a positive postdoctoral experience for UBC postdoctoral fellows, their supervisors and departments.  Specific activities include orientation events, professional development programming, advocacy, and oversight of a number of awards (including Banting) and the Killam PDF Research Prize.
In addition to the Postdoctoral portfolio, Dr. Fernandez will take on the responsibility for guiding the Faculty's efforts in the key area of graduate student professional development. Working within the Faculty and with various partners across campus, she will add her expertise to enhancing our award-winning Graduate Pathways to Success Program. Her other primary areas of activity will encompass graduate student orientation events, the Three Minute Thesis competition, working with numerous campus partners to offer further development activities and supporting other units in their own efforts in graduate student development.
An Associate Professor within the UBC Department of Microbiology and Immunology, Dr. Fernandez received her Bachelor of Science degree from the University of Toronto (1982), and her Master's(1985) and PhD(1992) in Microbiology from Dalhousie University.  She has taught in the undergraduate and graduate programs at UBC for over 18 years.
As a teacher and researcher, bacterial pathogenesis is her principal field of interest. Twice nominated for a Killam Teaching Prize, she has been principal supervisor to many successful graduate students and postdoctoral fellows in addition to serving on numerous graduate student supervisory committees. Her work has been extensively published in peer-reviewed journals and is supported by funding from the Canadian Institutes of Health Research (CIHR) and the Natural Sciences and Engineering Research (NSERC).