December 3, 2013
Fall graduation is underway at UBC and for the first time in recent memory, attendees at Friday's 11:30 a.m. convocation will be treated to a student address given by one of our newly-minted PhDs – Dr. Olga Pena, PhD Microbiology and Immunology.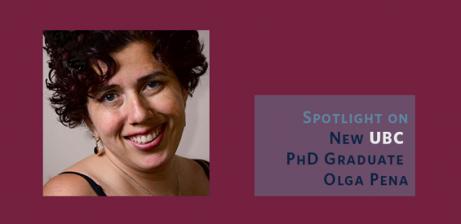 As a graduate student within Dr. Robert Hancock's lab at the Center for Microbial Diseases and Immunity Research, Olga has been recognized as an outstanding researcher and scholar during her tenure, receiving numerous awards and important scholarships including two of Canada's most prestigious graduate student awards – a Vanier Scholarship and a Killam Doctoral Fellowship.
In celebration of Olga's achievement the achievement of all of our new PhDs we asked Olga to share with us her UBC graduate student experience and some of the knowledge she has gained along the way.
What did you hope to accomplish with your PhD research?
During my PhD I studied the immunopathology of sepsis, a syndrome that continues to be the major infection-related cause of death globally, leading to approximately 5 million deaths annually. I demonstrated that in contrast to what was previously believed, most sepsis patients have a strong immunosuppression profile known as endotoxin tolerance, changing a paradigm in the field. I also discovered valuable biomarkers that can identify this profile, predict severity, and possibly enable the appropriate administration of immunological and supportive therapies.
I personally experienced the fast and devastating consequences of this syndrome, as my own father died from sepsis, so it is for me a great privilege to know that with my research I was able to contribute to the understating of sepsis and I really hope that my findings help to improve the survival rates among sepsis patients in the near future.
For you, what was the best surprise about Graduate life, about UBC or life in Vancouver?
In order to answer that, I'm going to give you a sneak-peek at my graduation speech!
My experience at UBC went far and beyond than just acquiring academic knowledge:
At UBC, I also learned the real meaning of multiculturalism, by interacting with people from many different countries and cultures.
I learned the meaning of international and community engagement, by being engaged and engaging others in initiatives that can contribute to building a better world through dialogue, teaching and learning.
I learned the meaning of sustainability and not just the importance of environmental but also economic and social sustainability, by applying these concepts into my every day life.
I learned the real meaning of research excellence, by following excellent role models such as my own PhD supervisor and other great professors.
As a wife in love, a very happy mom, and a career-oriented woman, I learned the real meaning of having a balanced life, understanding that with love and collaboration everything is possible. I was personally able to finish my PhD while being a Mom, thanks to my lovely husband and what we call teamwork and my beautiful family in Colombia who has always been there supporting me. As a woman, I truly believe we can be great moms, while following our passion for knowledge.
Most importantly, as an international student coming from a very small town called Chicoral, I also learned that I am not just a citizen of Colombia, and you, my fellow graduates are not only citizens of Canada or Germany or China or Brazil… We are citizens of the world!
Born and raised in Chicoral, Tolima, Colombia, Olga joined the ranks of UBC's outstanding graduate students in 2007. Along the way she has amassed numerous awards and honours both for her scholarly work and for her community involvement. Including; Nestor Korchinsky Student Leadership Award 2013; SWAAC Graduate Student Award of Merit 2013; Faculty of Science Service Award 2010; Liu Institute for Global Issues Scholar 2011-2013 & graduate student representative on the UBC VP-Students Search Committee 2011.
For more information on the graduate program in Microbiology and Immunology at UBC.
To watch a live feed of the Friday, November 29th convocation ceremony.